What is a Concussion?
by Chris Stewart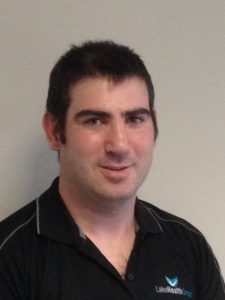 A concussion is defined as a complex pathophysiological process that affects the brain, typically induced by trauma.   This can be occur by a direct blow to the head, face, neck, or a blow to the body, which can create a force that can shake a person's brain. Concussion is an evolving injury, which can change over the first few hours – sometimes over a few days. In most cases, symptoms have resolved within seven days after injury.
Recognising concussion is important for correct management and prevention of further injury.  Concussion can sometimes be difficult to detect. The symptoms and signs can be varied, non-specific and subtle.
Often though, there are clear signs that an athlete has sustained a concussion.
Headache
'Pressure in the head'
Neck pain
Nausea or vomiting
Dizziness
Blurred vision
Balance problems
Sensitivity to light
Sensitivity to noise
Feeling slowed down
Feeling like 'in a fog'

'Don't feel right'
Difficulty concentrating
Difficulty remembering
Fatigue or low energy
Confusion
Drowsiness
Trouble falling asleep
More emotional
Irritability
Sadness
Nervous or anxious
If there is any doubt about whether an athlete has sustained a concussion, that athlete should not be allowed to return to the sport field that day. The diagnosis of concussion should be made by a medical practitioner with experience in concussion management before returning to play.
Athletes with suspected or confirmed concussion should remain in the company of a responsible adult (sport trainer etc.) and not be allowed to drive. The athlete is strongly advised to avoid alcohol and check all medication with a trained doctor.
Once the diagnosis of concussion is made, immediate management is physical and cognitive rest. This can include rest from school and work.   Most of the symptoms last 7 – 10 days, a gradual return to work or play should be developed in consultation with a doctor.
Those under the age of 18 years of age may take longer to recover, requiring a more conservative approach to concussion.   Return to learning should take a high priority over return to sport.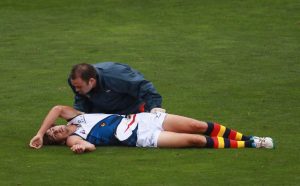 Chris Stewart is a Senior Physiotherapist at Lake Health Group, Ballarat
(Photo courtesy The World Today)