Snap, Crackle, Pop! And the season is over!
Snap, Crackle, Pop! And the season is Over!
A footballer flies to contest the ball, then lands awkwardly on a single leg. His leg buckles from under him and he lays on the ground clutching his knee, his face contorted. The facial expression is not just from the physical pain but also the mental anguish and realisation that the season is now over. This far too frequent scenario is a feature of the game of AFL and none know it better than football legend Chris Judd who recently announced his retirement from professional sport as a result of a ruptured anterior cruciate ligament. So what is the injury, why is it so debilitating, what are the options for fixing it and what rehabilitation is involved?
The anterior cruciate ligament or ACL for short is one of four primary ligaments in your knee. The medial and lateral ligaments are on the inside and outside of the knee and control sideways motion of the knee. The cruciate ligaments are found inside the knee and cross each other to form an "X" (hence the name cruciate), with the anterior cruciate in front and the posterior cruciate in the back. The cruciate ligaments control the back and forth motion of the knee. The anterior cruciate runs diagonally in the middle of the knee and prevents the tibia (bottom leg bone) from sliding out in front of the femur (top leg bone). It also provides what is known as rotational stability of the knee. In layman`s terms, the ACL affords stability of the knee for sudden acceleration and deceleration, cutting and weaving and changes in direction. Rupturing an ACL is far more common and more debilitating than damage to a posterior cruciate injury or PCL for short. There are quite a few ruckman in AFL who don`t have a PCL and most people (especially Hawthorn fans)  remember how Adam Goodes managed to get back on the field in a Grand Final after sustaining a PCL injury. It would nearly be impossible to get back on with an ACL rupture due to swelling, instability and pain.
In case it needed further explanation, ligaments join bones together and injury to a ligament can be quite varied, from a sprain right through to full rupture. In reference to the ACL, partial tears are rare as most tears are complete or near complete tears. This means that after injury most sportspeople either need a reconstruction or will need to reconsider their sporting options. It is certainly possible to exist without having the ligament repaired but mostly these people are confined to non-contact and non-pivoting type sports such as jogging, cycling or swimming. For an AFL footballer this hardly "cuts the mustard".
So how does one know if an ACL injury has occurred? Well, given the coverage of AFL games and the sharing of sports medicine specific knowledge with the general public, many people would have an inkling that an ACL injury had occurred to a player in their team by the footage and the explanation given by the commentators such as "Richo" or " Lingey". That being said, what do we look for as physiotherapists when someone is stretchered off the field or hobbles in to the clinic on crutches on Monday morning? Most of the time simply talking to the injured player reveals the extent of the injury. Specific, tailored questions to determine the mechanism of injury, the degree and site of pain and swelling, as well as how quickly the knee swelled are important in pinpointing an ACL tear. An ACL injury usually swells very quickly and to a large degree as compared with a meniscal or collateral ligament injury.
The next step for a clinician is to examine the patient and there are 2 or 3 vital tests to determine if the ACL is ruptured or not. These are the anterior draw or Lachman`s tests which basically involve pulling the tibia forward on the femur. In an intact knee the ACL stops the forward movement and can be felt as a tight block to the movement. In a ruptured ACL knee there is no end point. If suspicion of the injury is there often a scan such as an MRI will be ordered. These days pretty well all orthopaedic surgeons will order an MRI before considering surgery and these scans will also show if any other damage to the knee has occurred. Often there is bruising to the underlying bone and there can be meniscal (cartilage) damage too. This bone bruising is quite often the reason players struggle to return and is also a reason surgeons give as to why injury to an ACL is such a significant and debilitating injury.
Once the diagnosis has been made and the player has decided that surgery is the desired option as he wishes to play on and continue with football, the type of surgery performed needs to be considered. It is also important to note here too that there is no rush to repair an ACL within a few days or so as there is a lot of bleeding and swelling that needs to be controlled before surgery should be considered. Indeed one of the leading orthopaedic surgeons in Melbourne who operates routinely on ACLs, Julian Feller, advocates "calming the knee and the patient down" first. By this he means getting the swelling down, the range back and also allowing the patient to be in the right mind frame to undertake the surgery.
Now for the different options for ACL reconstruction. Years ago most players had a patella tendon graft and sadly I am showing my age when I say I have seen quite a few of these in bygone days. This technique involved using the middle 1/3 of the patella tendon with a bit of bone either end as a new ligament. As with all techniques this was fitted into a bone tunnel drilled through the front of the tibia and also through the femur and secured at either end. Quite a few players developed knee tendon issues as a result but didn`t have any issues with their hamstrings as players can have with hamstring grafts. This hamstring graft technique is the most widely used and accepted today, with most players opting for this over the once popular LARS procedure whereby a synthetic graft was used. Players used to get back a lot quicker than with conventional techniques (4 months compared with 9 to 12 months) but sadly a lot of these grafts ruptured again.
Rehabilitation for an ACL injury is a lot more extensive than in early years and sometimes surgeons will request a brace and others not. It is a far cry from the days of a player spending 2 weeks in hospital with full plaster from ankle to hip though! The rehab can probably be broken into a few different phases which used to be purely time based. These days consideration to how well the knee is functioning factor in too as people can vary greatly with how time and effort they put into their rehabilitation and thus outcomes can vary significantly. Early on in the first few weeks, controlling swelling and regaining range, especially straightening, is critical. Then strengthening can occur, often between 2 and 12 weeks. Things such as squats, use of an exercise bike and light gym can start around 6 weeks post-surgery. Jogging may occur at 8 weeks and balance work is important too. Further strength work will occur at 12 to 16 weeks, and after that, change of direction drills can commence. There are some useful programs designed to prevent ACL injuries and these can be excellent to help prepare for return to sport. One of these is the FIFA 11+ and you can mention this to your physio who can help. From 6 to 12 months return to training and sport may occur but it is probably wise to be back training fully for a month before considering a return to sport. Working closely with your physio and having full clearance from your surgeon is vital to ensure a smooth transition back.
As you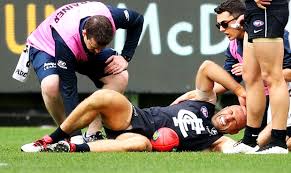 can see an ACL injury is a debilitating and very serious injury. Physiotherapists are excellent in helping diagnose these injuries but also at                   helping with return to playing and sport following injury to the ACL. The type of injury and lifestyle will dictate and determine which type of graft is best     for a particular player. Return to sport is generally 9 to 12 months. – Michael Pierce is a titled Sports Physiotherapist at Lake Health Group with over 20     years' experience with sports injuries.