RUNNING YOUR WAY OUT OF TROUBLE
by Michael Pierce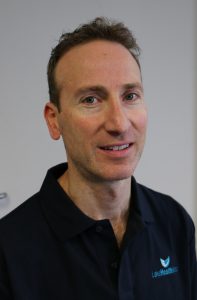 With running being the most basic of human physical activities and a requirement for most sports, why then is it associated with the highest levels of injury? Lake Health Group Director and Sports Physiotherapist, Michael Pierce, explains that poor running technique can play a major role in the development of injuries. Michael and the team at Lake Health Group have the skills and technology to analyse running technique and make adjustments to style that not only prevent and treat injuries, but that can aid performance and efficiency. Successful rehabilitation combines analysing technique, intervening with cues and outlining specific exercises tailored to the individual for best results.
Most physiotherapists will treat running injuries such as shin splints, achilles tendinopathy, iliotibial band syndrome, plantar fasciitis to name a few, but not all will link this to running style, let alone analyse and correct it. Often sportspeople with ongoing injuries have had plenty of treatment but the missing link and path to pain free running has been technique analysis. Technique issues such as overstriding, crossing legs, dropping the hips and poor cadence (number of strides per minute ) can contribute to injury. Also footwear, or lack thereof, as well as how hard an individual lands will make a difference. Even landing on the heel in poor footwear can cause an injury compared with running on the toes or striking with the midfoot.
Michael and the team at Lake Health Group here in Ballarat have developed a critical focus to facilitate the perfect running style via the use of new technology. This technology is available to anyone involved in running sports, from the recreational fun runner to the elite footballer or netballer. State of the art video analysis of the runner on a treadmill is an essential component of the assessment process. Using a large screen TV and iPad, Michael can show the client before and after video and stills to highlight technique errors that may be contributing to pain and injury with running. This analysis can then be provided to the client for future reference.
If you keep breaking down with running injuries, are about to take up running or are an experienced runner keen to improve your efficiency, call Lake Health Group.
Michael Pierce is Principal Physiotherapist at Lake Health Group, Ballarat.