Overuse Injuries
by Ryan Hobbs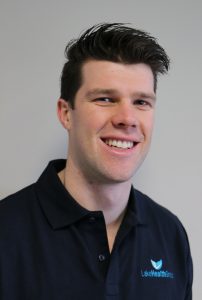 Do you have an overuse injury? The hallmark sign of an overuse injury – in its early stages, is stiffness or soreness which may disappear after the warm up. However, continued use may cause additional damage where the pain will last throughout activity and may even be worse on completion of activity.
Is this story familiar? You have been training hard over the summer with high aspirations for the season ahead, only to succumb to an injury that prevents you from performing at your peak. Often this is the result of an overuse injury.
Overuse injuries can occur to several structures within the body, such as; bone (stress fractures), tendons (tendonopathy), bursa (bursitis), and nerve tissue (nerve entrapment)
Exercise applies stress to the body. Your body normally responds to this stress by strengthening the tissues that are being loaded, so that they can withstand the increased forces placed on them.  However, in the case of an overuse injury, excessive stress can cause tissue damage, leading to inflammation and pain.
When considering the cause for overuse injuries, most commonly it is the result of training errors. Moreover, the most common error is 'too much, too soon.' Additionally, the body's kinetic chain and biomechanical factors need to be considered including; lack of appropriate muscle strength or endurance, poor core stability, muscle imbalance, inflexibility, faulty technique and incorrect equipment.
It is not all doom and gloom! You can prevent overuse injuries by;
Warming up and cooling down before and after all exercise. Dynamic exercises (i.e. continuous movement) have been shown to be more effective than static stretches.
Using proper equipment; i.e. suitable footwear
Increase your workload (speed, distance, duration, weight, etc) by no more than 10% per week . Fitness is accumulated over time with a consistent approach to training.
Practice and apply correct technique to your exercises.
Listen to your body. Early identification of increasing soreness or stiffness and prompt treatment will allow activity to be continued
Cross-train. Sports such as football and netball are becoming year-round, rather than seasonal sports, which is a risk factor for overuse injuries. Cross-training allows multiple muscle groups to be worked and strengthened. Swimming and cycling are great forms of cross-training for runners and field based sportspeople.
Overuse injuries can be stubborn problems, however most get better within 4-6 weeks. Treatment of overuse injuries usually requires addressing the cause of the injury as well specific additional elements such as training load modification, target specific exercises, soft tissue massage and anti-inflammatory medication where appropriate.
When should you return to your sport? Essentially your physiotherapist will guide you safely through this process. However, achieving these targets will ensure a safe return to sport and minimise the risk of re-injury:
Full range of movement around the injured joint
Strength back to at least 90% of the uninjured side
Completed at least two full training sessions prior to competition / sport.
Don't let a pre-season niggle progress into a more serious injury which hinders your season. Remember, prevention is better than a cure.
Ryan Hobbs is a Physiotherapist with Lake Health Group, Ballarat.