Massage Marathon supports Ovarian Cancer Day
written by Jane Mason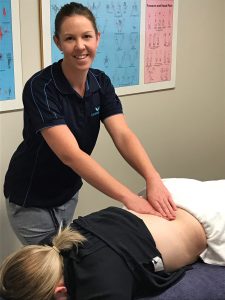 Monday May 8th is World Ovarian Cancer Day.  On the Sunday before (May 7th) I am organising a 'Massage Marathon'  to raise funds for and promote awareness of Ovarian Cancer.
Recently a girl I went through school and worked with was diagnosed with ovarian cancer.  I began thinking about what I could do to show my support for her and Ovarian Cancer suffers generally.  I have a limited understanding of this type of women's cancer. Most of the women I spoke to in the days and weeks after my friend's diagnosis were equally unaware of the early signs and symptoms and of other facts about ovarian cancer that everyone needs to be aware of, such as  Ovarian Cancer can go undetected; early symptoms can be associated with more common & less serious conditions. The Cancer may not be diagnosed until it spreads within the pelvis and stomach.   The Massage Marathon has come about as my way of showing support to my friend and an opportunity to raise local awareness about ovarian cancer and at the same time raise money to support Ovarian Cancer Australia's work.
The Marathon will run from 9am to 6pm. A number therapists are donating their services; offering  30-minute massages in return for a $40 donation to Ovarian Cancer Australia.  This is not a clinical massage and not connected to Lake Health Group – apart from their generous donation of rooms and massage equipment. In order for families to participate we will be running a sausage sizzle,  raffle with prizes, and face painting will be available to the kids while mum and dad are having their massage.
I'm hoping you can take advantage of the opportunity for a fun and relaxing massage at the same time supporting a the health of the women in our families.  (It's also a great opportunity to get a rub down ahead of the Mothers Day Classis being held the following weekend)  Please call me if you have any questions.  I hope to see you there.
Jane Mason is a Myotherapist at Lake Health Group in Ballarat.
President Obama's sister was also diagnosed with Ovarian Cancer. You can read her story here: http://ovariancancerday.org/watch-president-obamas-sisters-story/