If the Shoe fits…
written by Justin Allison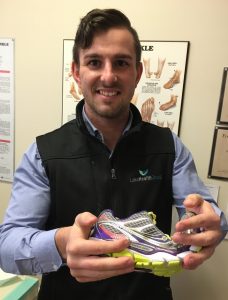 Do you have an upcoming event, but not sure if your runners will last?
Are you getting back into exercise after a longer than usual break?
Are your old faithful runners no longer faithful?
You may need to update your shoes!! I see many different cases on a weekly basis that could be avoided or reduced by maintaining appropriate footwear.
Some points to think about to determine if you need to update your current running shoes:
Mileage: Most running shoes will generally last between 500-900km. This depends on a lot of factors including surfaces, your weight, weather and shoe materials. A common phrase that I hear in clinic is "I have only had them about a year". Here's the math. Let's say you walk/run 5km a day, 5 days a week. So 5km x 5 days x 52 weeks = 1300kms, this doesn't include the extra km's when you run odd jobs or chores including the supermarket dash for bread and milk, you could be well over 2000km's per year on one pair of runners!
Bend Test: This is done by holding the two ends of the shoe and bending the shoe back on itself. If you can do this easily the midsole of the shoe has likely compressed and lacks its original cushioning properties. If so, update your shoes.
Tread: If the tread (the sole of the shoe) has worn, and the wear is uneven, it is time for a new pair of shoes. This could also mean that you have some abnormalities in your walking or running pattern which could also be assessed by a podiatrist.
Uneven compression: Due to different materials in the shoe and individual gait patterns during our walking and running, shoes can compress unevenly, leading to a change in the dynamic support of the shoe. You can check this by looking at the shoe whilst on a flat surface and see if the shoe "leans" to one side.
Pain: If you are experiencing pain when walking and running, getting your shoes reviewed and likely updated is a great place to start. This will give help give your podiatrist a better understanding of what is could causing your pain and discomfort.
Now that you know when your shoes have given up and you need to a new pair, below are a few tips on how to get the best bang for your buck when buying your new shoes:
Shop at the end of the day — your feet naturally expand with use during the day and may swell in hot weather, you will get a better indication of fit and comfort when buying at the end of a day.
Wear the same type of socks that you intend to wear with the shoes when purchasing
Get the salesperson to measure both feet. Don't just assume that you will be a size 10 because that's what the last pair you had were. Feet and shoes are forever changing.
Stand in the shoes. Make sure you have at least a thumb width of space between your longest toe and the end of the shoe.
Walk around in the shoes!!! Make sure you can walk in them comfortably. Is there enough room at the balls of the feet? Are they wide enough? Do the heels fit, or do they pinch or slip off? Don't rationalize that the shoes just need to be "broken in" or that they'll stretch with time. Find shoes that fit from the start otherwise you will regret it.
Trust your own comfort level rather than a shoe's size or description.
Feel the inside of the shoes to see if they have any tags, seams, or other material that might irritate your feet or cause blisters.
Finally, Ask questions of the salesperson!!! They know their stuff, they will help you in any way possible to make sure you get the right shoe for your exercise needs.
If you have any questions about footwear or foot problems, please give us a call.
Justin Allison is a Podiatrist with Lake Health Group, Ballarat.